Visualizing Ukraine's Top Trading Partners and Products
Putting EV Valuations Into Perspective
Mapped: Corruption in Countries Around the World
A Visual Guide to Stock Splits
Visualizing the State of Global Debt, by Country
How the Top Cryptocurrencies Performed in 2021
The 20 Internet Giants That Rule the Web
Visualizing the Power of the World's Supercomputers
Companies Gone Public in 2021: Visualizing IPO Valuations
A Visual Guide to Profile Picture NFTs
The Richest People in the World in 2022
Who Are the Russian Oligarchs?
The World's Billionaires, by Generation
Where Does the World's Ultra-Wealthy Population Live Today?
Visualizing the State of Global Debt, by Country
Visualizing How COVID-19 Antiviral Pills and Vaccines Work at the Cellular Level
Mapped: The Most Common Illicit Drugs in the World
Visualizing The Most Widespread Blood Types in Every Country
Pandemic Recovery: Have North American Downtowns Bounced Back?
Ranked: The Most Prescribed Drugs in the U.S.
Interactive Map: Crude Oil Pipelines and Refineries of the U.S. and Canada
Visualizing the EU's Energy Dependency
Mapped: Gas Prices in America at All-Time Highs
The Clean Energy Employment Shift, by 2030
The Science of Nuclear Weapons, Visualized
Mapped: Gas Prices in America at All-Time Highs
Mapped: Global Happiness Levels in 2022
Mapped: All the World's Military Personnel
A Visual Guide to Europe's Member States
4 Historical Maps that Explain the USSR
The 50 Minerals Critical to U.S. Security
Visualizing China's Dominance in Clean Energy Metals
The Periodic Table of Commodity Returns (2012-2021)
Visualizing the Abundance of Elements in the Earth's Crust
Rare Earth Elements: Where in the World Are They?
Visualizing the World's Loss of Forests Since the Ice-Age
The Clean Energy Employment Shift, by 2030
Putting EV Valuations Into Perspective
Visualizing the World's Biggest Rice Producers
Ranked: The Top 10 Countries by Energy Transition Investment
Published
on
By
View the full-size version of this visualization
Historically, flags primarily served as means of identification in warfare, but today, national flags are flown to represent a country both on the international stage and domestically.
Every flag incorporates design elements and colors that symbolize certain aspects of each country's history and identity. And as you've likely noticed, many of them fall under similar color conventions or patterns, with the exception of a few rare outliers.
This visualization by Giulia De Amicis shows flags of 196 countries recognized by international standards, grouped according to the main design characteristics—color and pattern.
It includes 193 United Nations Member States, two permanent non-member observer states—Vatican City and Palestine, and Taiwan, a self-ruled democracy and an ex-member of the UN.
Most countries have flags in a quadrilateral shape—a four-sided polygon with four edges and four corners—mainly with a 2:3 or 1:2 aspect ratio.
In contrast, the flag of Nepal stands out with its unique layout. It consists of two triangular shapes with a white moon on the top and a white sun on the bottom section.

The unusual flag's design has at times caused difficulties for large-scale reproduction.
In the 2016 Summer Olympics, for example, the Nepalese flag was placed on a white rectangular cloth shaped the same as other flags.
By far, the most popular color used in national flags is red, with
20%
of listed countries featuring it in their flag design. In vexillology—the study of flags—it is believed that
red
is a symbol of power, bravery, revolution, and vibrancy, as well as war in reference to past bloodshed.
Green comes as the second most used flag color with 15% of countries incorporating it, followed by black (14%), purple (12%), white (11.5%), light blue (11%), and blue (9.5%). Yellow was the least popular with just 7% of countries using it in their national flags.
Certain regions share a distinct mix of colors that neighboring countries have adopted. For example, red, white, green, and black are seen in several Arab nation flags. Similarly, green, red, and yellow combinations are often symbolic of Pan-African countries.
A simple tricolor design, in either a vertical and horizontal orientation, is the most frequent pattern with
68 countries
displaying it on their flags. Stars follow with 40 country flags, while 29 flags had either a seal or stripes.
But there are many other flag designs to consider, such as the geometrical designs used by
Cuba
and
South Africa
, crosses like the Union Jack of the
UK
, and circles like those of
Japan
and
South Korea
. And not every flag fits one single design category, such as
Pakistan's
white and green flag with a crescent and star, or the many flags that include a Union Jack within their design.
Symbolism ascribed to flag design can range from abstract to more literal explanations. The
meaning of flag designs
can change over time, too, often influenced by major political shifts.
For example, the red flag of the
People's Republic of China
has one prominent yellow star, which used to stand for the Chinese Communist Party, while the smaller stars were previously associated with the four social classes making up the society. Today, the large star represents China itself, while the smaller stars stand for the country's many national minorities.
In a similar manner, other nations have made changes to their flag designs to reflect major political changes, or people have ascribed their own revised meanings to the elements depicted in their country's flag.
Which nation's flag catches your eye? Are there any other flags that are memorable or unique but not featured on this list?
This article was published as a part of Visual Capitalist's
Creator Program
, which features data-driven visuals from some of our favorite Creators around the world.
The Surge in Climate Risk Reporting
10 Travel Destinations for Post-Pandemic Life
Animation: How the European Map Has Changed Over 2,400 Years
Which Countries Have the Most Nuclear Weapons?
Comparing the Size of The World's Rockets, Past and Present
Mercator Misconceptions: Clever Map Shows the True Size of Countries
Today, 84% of the world's population identifies with a religious group. Here we visualize the distribution of the major religions worldwide.
Published
on
By
The world has become increasingly more secular in the last few decades. However, religion remains an
integral part
of many people's lives, and
84%
of the world's population identifies with a religious group.
The religious profile of the world is rapidly changing, driven primarily by differences in fertility rates and the size of youth populations among the world's major religions, as well as by people switching faiths.
With the help of data from
Pew Research Center
, we break down the religious composition of the major religions in countries worldwide.
Determining the exact number of religions across the world is a daunting task. Many religions can be difficult to categorize or to tell apart for those not intimately familiar with their doctrine.
Pew Research Center organizes the world's religions into
seven major categories
, which includes five major religions (Christianity, Islam, Buddhism, Hinduism, and Judaism), one category that broadly includes all Folk/Traditional religions, and an unaffiliated category.
Globally, Christianity has the largest following of these categories. Around
31%
of the world's population are Christians, closely followed by Muslims at
25%
. Jews have the smallest population of major religions, with only
0.2%
of the world identifying as Jewish.
Let's take a look at the religious composition of the world when accounting for regions:
From Islam being the dominant religion in the Middle East to over
95%
of Cambodians and Thais following Buddhism, here's how prevalent every major religion in the world is.
The world's largest religion, Christianity, is practiced by about
2.4 billion
people.
The country with the highest number of practicing Christians is the United States, with a Christian population of
253 million
. Brazil and Mexico follow closely with 185 million and 118 million Christians, respectively.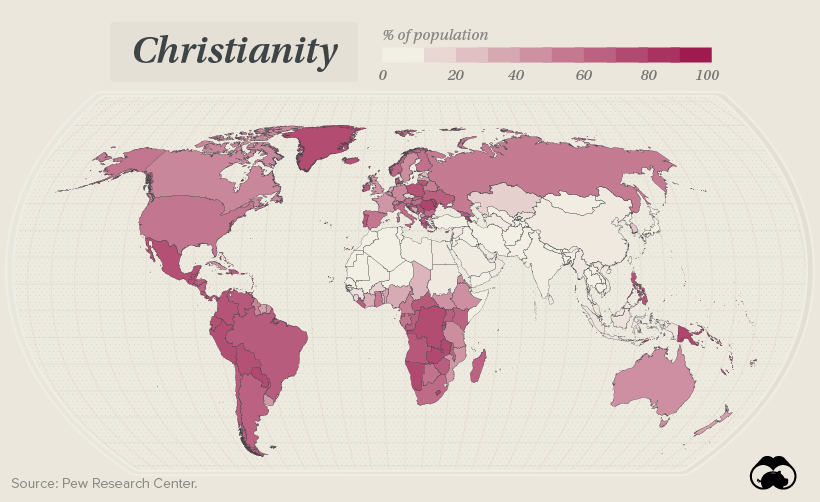 Christianity has historically spread around the globe and today it remains a geographically widespread religion. Over the past century, it has become less concentrated in Europe while becoming more evenly distributed throughout the Americas, sub-Saharan Africa, and the Asia-Pacific region.
Even though it's the predominant religion of countries in the Middle East and Northern Africa, by sheer number, countries in Asia have the highest percentage of practicing Muslims in the world.
It may surprise you to know that
14.2%
of Indians are Muslim. As a result, the country is home to one of the
world's largest
Muslim populations, surpassed only by Indonesia.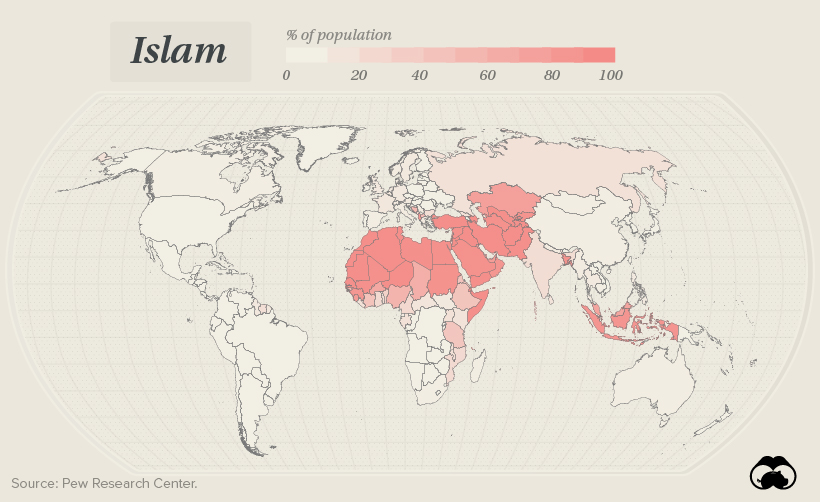 Islam is also the world's
fastest-growing
major religion. The number of Muslims is expected to increase by 70%, from
1.8 billion
in 2015 to nearly
3 billion
in 2060. The fact that they have the youngest median age, at 24, also helps this population growth.
While Jews historically have been found all around the globe, Judaism is highly geographically concentrated today. More than four-fifths of all Jews live in just two countries: the United States and Israel. Israel is the only country with a
Jewish majority
, with
76%
of the population being practicing Jews.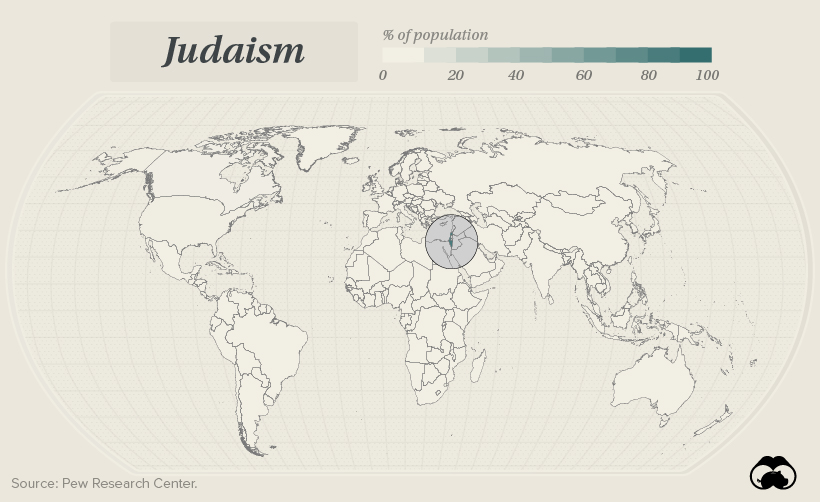 The largest remaining shares of the global Jewish population apart from the U.S. and Israel are in Canada (about 3% of the country's population), France (2%), the United Kingdom (2%), Germany (2%), Russia (2%) and Argentina (between 1% and 2%).
The religiously unaffiliated population includes atheists, agnostics, and people who do not identify with any particular religion.
720 million
of the Chinese population
consider themselves
religiously unaffiliated, while
78%
of Czechs feel the same way.
However, it is worth noting that many of the religiously unaffiliated hold some religious or spiritual beliefs. For example, surveys have found that
faith in God
or a higher power is shared by 7% of unaffiliated Chinese adults, 30% of unaffiliated French adults, and
68%
of unaffiliated U.S. adults.
Hinduism is the
third-largest religion
worldwide, with approximately
1.2 billion
Hindus in many countries. Interestingly, however, Hinduism is the dominant religion in only three countries, India with 79%, Nepal with 80%, and Mauritius with 48%.
Although Hinduism is rarely a country's primary religion, it still enjoys a global presence. Many regions around the world support significant populations of Hindus, including the Caribbean, Southeast Asia, North America, and South America.
According to
estimates
, half the world's Buddhists live in China. Still, they make up only
18%
of the country's population. Most of the rest of the world's Buddhists live in East and South Asia, including 13% in Thailand (where
93% of the population
is Buddhist).
Buddhism in Asia is a matter of both identity and practice. Scholars and journalists have documented that many Asian countries may engage in Buddhist practices without considering themselves part of any organized religion.
Folk religion
is any ethnic or cultural religious practice that falls outside the doctrine of organized religion. Grounded on popular beliefs and sometimes called popular or vernacular religion, the term refers to how people experience and practice religion in their daily lives.
As of 2020, an estimated
429 million
people, about 6% of the world's total population,
were adherents
of folk or traditional religions. Some notable folk religions include African traditional religions, Chinese folk religions, Native American religions, and Australian aboriginal religions.
Excited to get back to travelling the world? This infographic highlights the 10 most popular tourist destinations.
Published
on
By
On March 11, 2020, the World Health Organization formally classified the COVID-19 outbreak as a pandemic. The resulting travel bans decimated the tourism industry, and
international air travel
initially fell by as much as
98%
.
Almost two years later, travel is finally back on the table, though there are many restrictions to consider. Regardless, a
survey
conducted in September 2021 found that, as things revert to normalcy,
82%
of Americans are looking forward to international travel more than anything else.
To give inspiration for your next vacation (whenever that may be), this infographic lists the 10 most visited countries in 2019, as well as three of their top attractions according to Google Maps.
Here were the 10 most popular travel destinations in 2019, measured by their number of international arrivals.
*Estimate | Source: World Bank
France was the most popular travel destination by a significant margin, and it's easy to see why. The country is home to many of the world's most renowned sights, including the
Arc de Triomphe
and
Louvre Museum
.
The Arc de Triomphe was built in the early 1800s, and honors those who died in the French Revolutionary and Napoleonic Wars. In 1944, Allied soldiers marched through the monument after Paris was liberated from the Nazis.
The Louvre Museum, on the other hand, is often recognized by its
giant glass pyramid
. The museum houses over 480,000 works of art, including Leonardo da Vinci's Mona Lisa.
Art isn't the only thing that France has to offer. The country has a reputation for culinary excellence, and is home to 632
Michelin-starred restaurants
, the most out of any country. Japan comes in at second, with 413.
After seeing the sights in Paris, you may want to consider a visit to Spain. The country is the southern neighbor of France and is known for its beautiful villages and beaches.
One of its most impressive sights is the
Sagrada Familia
, a massive 440,000 square feet church which began construction in 1882, and is still being worked on today (139 years in the making). The video below shows the structure's striking evolution.
At a height of 172 meters, the Sagrada Familia is approximately 52 stories tall.
Another popular spot is
Ibiza
, an island off the coast of Spain that is famous for its robust nightlife scene. The island is frequently mentioned in pop culture—Netflix released an adventure/romance movie titled
Ibiza
in 2018, and the
remix
of Mike Posner's song
I Took a Pill in Ibiza
has over 1.4 billion views on YouTube.
If you're looking for something outside of Europe, consider Mexico or Thailand, which are the 7th and 8th most popular travel destinations. Both offer hot weather and an abundance of white sand beaches.
If you need even more convincing, check out these links:
Under normal circumstances,
hundreds of billions of dollars
are spent each year by international tourists. According to the World Travel & Tourism Council (WTCC), this spending accounted for an impressive
10.4%
of global GDP in 2019.
Travel restrictions introduced in 2020 dealt a serious blow to the industry, reducing its share of global GDP to
5.5%
, and wiping out an estimated
62 million
jobs. While the WTCC believes these jobs could return by 2022, the emerging Omicron variant has already prompted many countries to tighten restrictions once again.
To avoid headaches in the future, make sure you fully understand the rules and restrictions of where you're heading.
Mapped: Global Happiness Levels in 2022
Mapped: All the World's Military Personnel
The Richest People in the World in 2022
Where Does the World's Ultra-Wealthy Population Live Today?
A Decade of Elon Musk's Tweets, Visualized
The World's Billionaires, by Generation
Who Are the Russian Oligarchs?
The Science of Nuclear Weapons, Visualized
Copyright © 2022 Visual Capitalist