News
General News
Experts
Investment
Sustainability
Airbnb
Technology
F&B
Africa
Americas
Asia Pacific
Europe
Middle East
Marriott
Hilton
IHG
Accor
Hyatt
Radisson
Wyndham
Choice
Kempinski
Sheraton
LOTTE
Project of the Week
Hotel Projects
New Hotels
Expansions
Refurbishments
Resources
Infographics
Construction Reports
Videos
Design Concept
Design Vision
Design Showcase
Boutique Hotel
Archetype
Commtech Asia
Geberit
Hera
Kaldewei
Laufen
Victoria Albert
Wood Couture
by Clare Nicholls | 19 Jul 2022 | Projects
Pictured: Hilton Hyderabad Resort & Spa (Imagery © 2022 Hilton).
According to the TOPHOTELPROJECTS database, nearly 27,000 extra hotel rooms will become available in India over the next few years.
A total of 177 projects are due to be completed in cities including Bengaluru, Jaipur and New Delhi.
Of the 26,884 new keys we have recorded in our data, 11,580 of them will be within 95 four star projects, while the remaining 82 new five star hotels will deliver an additional 15,304 rooms.
Development should remain steady, with this year witnessing the opening of 36 hotels, collectively representing 5,539 rooms. Next year the total jumps somewhat to 58 hotels, but with only a further 7,917 keys, this suggests more of the proportion is either smaller developments, or contains fewer, more expansive rooms. The ratio of projects to rooms then moves back to 2022 levels for 2024, with 29 slated sites delivering 4,545 keys. Finally, 2025 and beyond is currently scheduled to produce another 54 hotels of 8,883 rooms in total.
Bengaluru tops the city development stakes, with 10 projects on the slate creating an additional 2,103 rooms. Close behind is Jaipur, with nine projects and 1,523 keys collectively. In the bronze medal position we have New Delhi, which will benefit from six new hotels comprising 2,055 rooms.
Two Indian Hotels Company Ltd subsidiaries lead the way in terms of brands, with both Taj and Vivanta by Taj bringing an extra 15 hotels to market, though the former will be adding a total 2,337 keys and the latter's developments will comprise 2,276 rooms. IHG Hotels & Resorts' Holiday Inn Hotels & Resorts rounds off the top three with 10 projects creating another 1,244 rooms.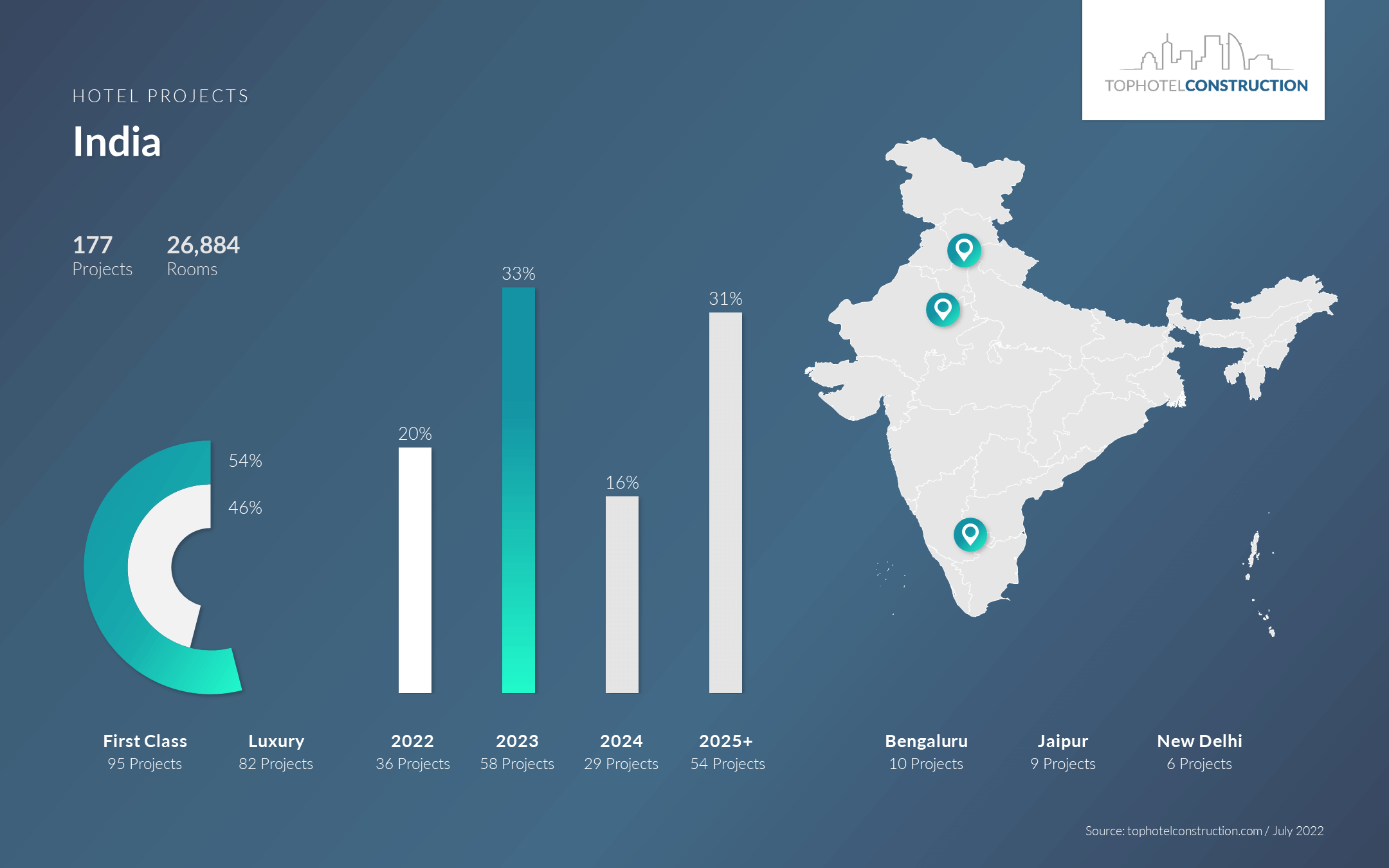 At the high end of the new additions are two upcoming five star developments: Hilton Hyderabad Resort & Spa and Zephyr – MBD Steigenberger Hotel and Apartments in Bengaluru.
Hilton's recently-announced project will span 15 acres of land, housing 115 guest rooms and 13 villas with private plunge pools along with an array of lifestyle amenities.
Highlights of this modern architectural property surrounded by green lawns are to include multiple dining outlets, a bar, a fitness centre and spa, as well as banquet and meeting space for corporate and celebratory events. It is due for completion in 2025.
Deutsche Hospitality's latest development in India's third most populous city will open its doors in Q1 2024. Set within the Zephyr mixed use development, the hotel will encompass 178 rooms and suites and 123 luxury serviced apartments.
Specialty restaurants will include all day dining Chinese, Indian, Italian, tea-lounge, club lounge, private/exclusive club and lounge bar venues. The Steigenberger-branded hotel will host 24,000 sq ft of convention space and a 12,500 sq ft spa area offering a salon and pool. Outdoor sports facilities will include a tennis court and a jogging track.
Architects Steelman Partners are developing the design, while interiors will be created by super-luxury specialists, Studio Papiri International.
Many TOPHOTELNEWS articles draw on exclusive information from the TOPHOTELPROJECTS construction database. This subscription-based product includes details of thousands of hotel projects around the world, along with the key decision-makers behind them. Please note, our data may differ from records held by other organisations. Generally, the database focuses on four- and five-star schemes of significant scale; tracks projects in either the vision, pre-planning, planning, under-construction, pre-opening or newly opened phase; and covers newbuilds, extensions, refurbishments and conversions.
Learn more
Related Articles
Jul 18, 2022
Imagery courtesy of Kengo Kuma and Associates. Capella Hotels and Resorts will be entering Japan for the first time with a luxury hotel designed in celebration of the exquisite style and culture of Kyoto. Opening in mid-2025, Capella Kyoto will be located in the…
Jul 17, 2022
Imagery courtesy of Ennismore. Ennismore is expanding its international brand SLS Hotels & Residences to Uruguay with the upcoming SLS Punta del Este. Developed by the GNV Group and designed by the global architect studio Gómez Platero, the project will include 80…
Jul 16, 2022
Imagery courtesy of Rosewood Hotels & Resorts. Rosewood Hotels & Resorts continues its strategic global growth with the announcement of an urban resort set to join the brand's property portfolio across China in 2026. The ultra-luxury Rosewood Xi'an will occupy…
Jul 15, 2022
Imagery courtesy of Hyatt Hotels Corporation. Hyatt Hotels Corporation has debuted its lifestyle brand Caption, with the first site opening its doors in Memphis, USA. Located in the heart of the Memphis Entertainment District, Caption by Hyatt Beale Street Memphis is…
Jul 15, 2022
Imagery courtesy of Bulgari Hotels & Resorts. Bulgari Hotels & Resorts has signed for a new luxury resort in the Maldives. Scheduled to open in 2025, the site is set to be the thirteenth in its collection. Bulgari Resort Ranfushi, meaning Little Gold Island in…
Jul 14, 2022
Imagery courtesy of Hard Rock International and Gensler. Hard Rock International is to partner with GEK TERNA Group to create a luxury resort and casino in the heart of the Athens Riviera. Located within the Ellinikon development, Hard Rock Hotel & Casino Athens…
LATEST NEWS
Newsletter
Media Data
Team & Contact


+49 (0) 4261 4140 0
[email protected]
Grosse Strasse 77
27356 Rotenburg
Germany

Imprint
General Terms of Business
Privacy Policy

© 2021 copyright TOPHOTELPROJECTS GmbH – all rights reserved