News
General News
Experts
Investment
Sustainability
Airbnb
Technology
F&B
Africa
Americas
Asia Pacific
Europe
Middle East
Marriott
Hilton
IHG
Accor
Hyatt
Radisson
Wyndham
Choice
Kempinski
Sheraton
LOTTE
Project of the Week
Hotel Projects
New Hotels
Expansions
Refurbishments
Resources
Infographics
Construction Reports
Videos
Design Concept
Design Vision
Design Showcase
Boutique Hotel
Archetype
Commtech Asia
Geberit
Hera
Kaldewei
Laufen
Victoria Albert
Wood Couture
by Clare Nicholls | 04 Aug 2022 | Chains
Pictured: Wyndham Resort Beau Rivage Nha Trang. Imagery courtesy of Tropicana Nha Trang.
US group Wyndham Hotels & Resorts is pursuing Chinese growth, according to data from TOPHOTELPROJECTS.
Our database shows that of the 37 projects we have recorded for the brand, 15 of these will appear in China over the coming years.
The five star brand will add at least 13,200 rooms to its offering through 2025 and beyond, with 3,648 of those keys (28%) being Chinese, topping our country development list.
Second by project totals is USA, with five hotels, though this will only add 868 rooms to Wyndham's portfolio, compared to number three on our list – Vietnam – where four projects will deliver a total of 5,580 keys, the highest in our analysis.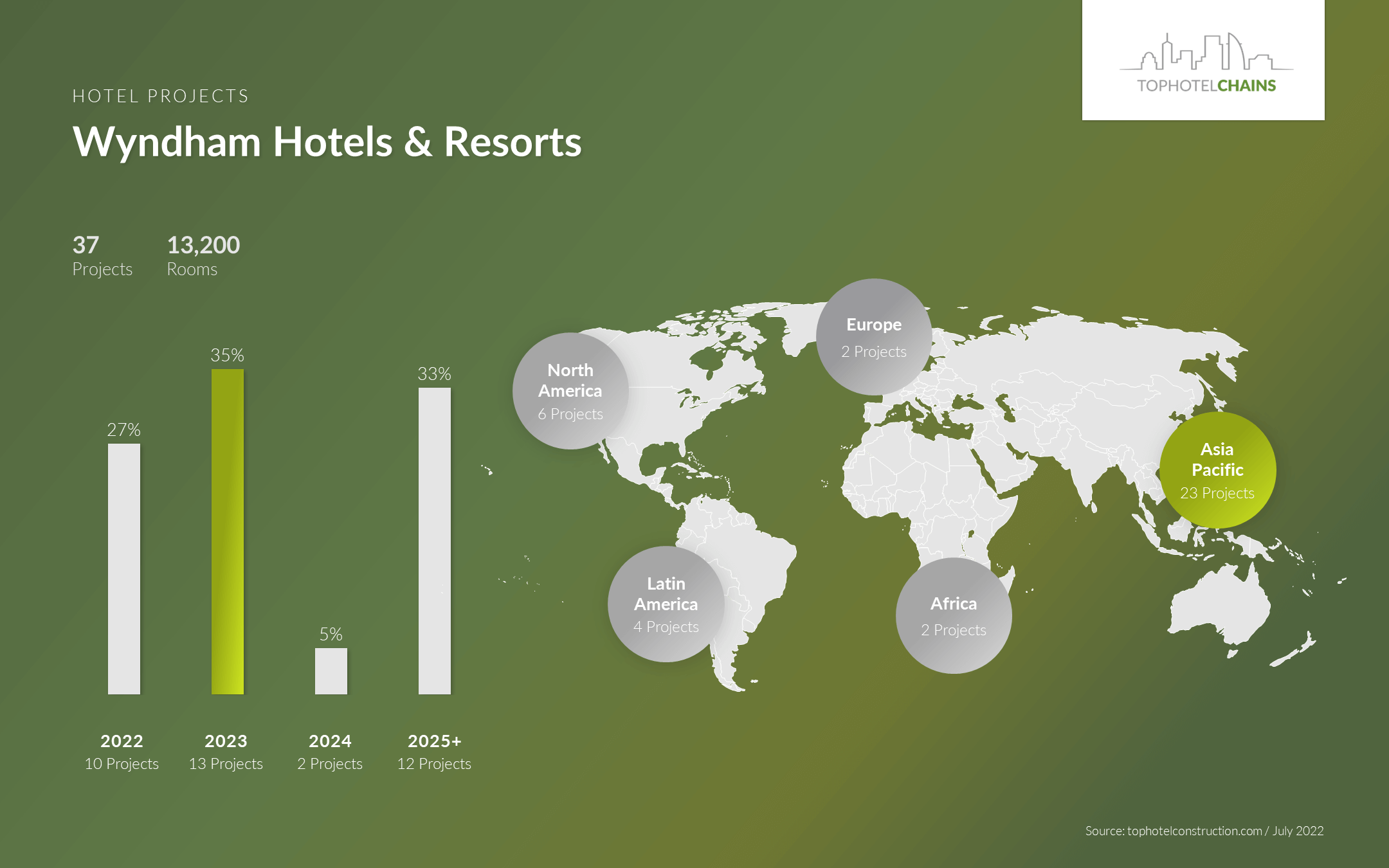 The Asian influence is also felt when drilling down into individual city developments for the brand. China's Dahlian and Wuhan share top spot with two hotels apiece, though Dahlian comes top through a 577-key total, compared to Wuhan's 350.
Although third on the city list with just one site, Vietnam's Phan Thiet is due to welcome a massive development of 2,912 rooms.
This major project, Apec Mandala Wyndham Mui Ne, will house 5,000 sq m of swimming pools, a 3,000 sq m conference centre with the first hologrammatic conference room in Vietnam, a 5,000 sq m indoor play complex, plus more than 129 entertainment utilities and services such as a water park, mineral mud park, beach club area, ocean bar and restaurant. The hotel is expected to become one of the leading beach resorts in Asia when officially launched in Q1 2023.
Other notable developments in Vietnam include Wyndham Resort Beau Rivage Nha Trang, currently due to complete in the fourth quarter of this year. Coastal city Nha Trang will accommodate 1,079 additional keys within two 50-storey towers, one of which will house hotel rooms, with the other comprising luxury condominiums.
A mixed-use complex connects the two towers and offers both guests and residents access to a variety of amenities, including gyms and a spa, an entertainment area and a VIP club. There will also be commercial spaces and numerous dining rooms for guests to enjoy the internal and external spaces.
Wyndham's development pipeline will peak next year with 13 projects (35% of the total) delivering 6,327 rooms, following the rest of the 2022 cohort, which will see 10 hotels and 3,826 keys coming online.
The rate dips dramatically in 2024 however, with just two projects slated to join the brand's patronage, representing 365 rooms, while 2025 and further ahead has a further 12 projects scheduled, adding another 2,682 keys.
Many TOPHOTELNEWS articles draw on exclusive information from the TOPHOTELPROJECTS construction database. This subscription-based product includes details of thousands of hotel projects around the world, along with the key decision-makers behind them. Please note, our data may differ from records held by other organisations. Generally, the database focuses on four- and five-star schemes of significant scale; tracks projects in either the vision, pre-planning, planning, under-construction, pre-opening or newly opened phase; and covers newbuilds, extensions, refurbishments and conversions.
Learn more
Related Articles
Aug 2, 2022
Salter Brothers' MD Paul Salter and Accor Pacific CEO, Sarah Derry. Imagery courtesy of Accor. Major hotel group Accor has completed a transaction with Australian fund manager Salter Brothers which adds 10 sites in the country to its portfolio. The deal is aimed at…
Aug 1, 2022
Pictured: TRS Yucatan Hotel – Riviera Maya, Mexico. Imagery courtesy of Palladium Hotel Group. Wyndham Hotels & Resorts has entered into a strategic alliance with Spain's Palladium Hotel Group to expand its luxury Registry Collection hotels with 14 all-inclusive…
Jul 28, 2022
Pictured: Home2 Suites by Hilton Markham. Imagery courtesy of API Development Consultants. Hilton Hotels Corporation's extended stay brand, Home2 Suites by Hilton, will continue its dominance in the US, with nearly 50 further sites planned, according to the…
Jul 27, 2022
Imagery courtesy of edyn. Design-led aparthotel specialist edyn is continuing to stretch its legs across Europe with several more properties due to appear in the continent's gateway cities over the next couple of years. So where is the group heading? TOPHOTELNEWS…
Jul 26, 2022
Imagery courtesy of Oakwood Worldwide. CapitaLand Investment Limited (CLI) lodging business, The Ascott Limited, is acquiring serviced apartment provider Oakwood Worldwide from Mapletree Investments. The deal is intended to fast-track Ascott's growth to over 150,000…
Jul 25, 2022
Imagery courtesy of IHG Hotels & Resorts. IHG Hotels & Resorts has signed a strategic alliance framework agreement with long-term partner Sun Hospitality Group to boost its presence in Vietnam. The multi-property deal is to develop four hotels across two…



Wyndham Hotels and Resorts is an upscale, full-service brand located in key business and vacation destinations across the world.
LATEST NEWS
Newsletter
Media Data
Team & Contact


+49 (0) 4261 4140 0
[email protected]
Grosse Strasse 77
27356 Rotenburg
Germany

Imprint
General Terms of Business
Privacy Policy

© 2021 copyright TOPHOTELPROJECTS GmbH – all rights reserved